Manufacturing Services
Storm's award winning, UK based, manufacturing division offers a unique sub-contract production capability. Manufacturing (as a service) is offered to external organisations seeking to out-source or augment existing manufacturing resources.
This secure, clean and well equipped facility is the ideal location for light electronic and electro/mechanical assembly. From prototype to production, Storm's audited cellular (lean) manufacturing process is proven to deliver high quality products as a cost efficient, one-stop-shop resource.
Storm maintains a static free environment with comprehensive use of anti-static flooring and work surfaces combined with personal grounding straps and personnel testing stations.
The company is fully ISO9001 UKAS accredited with an impressive 'right first time' and 'right on time' delivery record.
The manufacturing facility includes a monitored, access controlled, secure room for software loading, product storage and controlled despatch of products requiring secure deployment.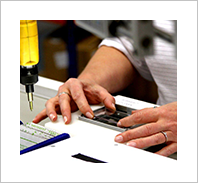 Computer controlled laser marking stations
Vacuum testing for sealed assemblies
In process functional testing (including test process design)
Automated optical inspection (AOI) for board and assembly level quality assurance
Assembly tools featuring calibrated, automated torque control
Production engineering support, including tool, jig and fixture design
Flexible workforce including skilled and semi- skilled assembly personnel
Optional component and material procurement service (including KANBAN )
Goods in, component and material inspection
Individual item and bulk packaging capability
Direct delivery and international despatch capability
Highly cost effective (lean) manufacturing processes
Clean, dry and secure warehouse facility, with electric (no emissions) fork-lift pallet handling
For more information about Storm Manufacturing Services please contact sales@storm-manf.com or view our video.